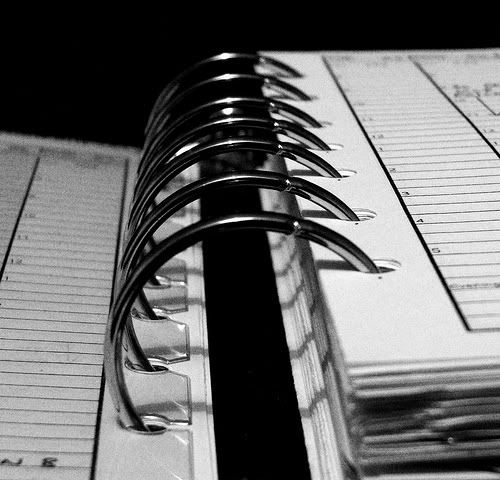 I've always been obsessed with the
thought
of those really thick planners with all the tabs and the leather cover. I've perused through the calendars in Target and Franklin Covey, but as much as I like the
idea
of having one of those planners, my life has never been busy enough to warrant such a purchase. Let's face it; watching
Project Runway
and ordering a pizza don't exactly have to be written down in a planner. And the thought of having all that unused space would have bothered me.
In college I loved my planner. I found this particular one my freshman year that I really liked, and I tried to find one each year that was as good. It was just basically a monthly academic planner with large spots for each day because I,
ahem
, have rather large handwriting. Kind of like the apostle Paul. ;)
I figured that I was a monthly planner kind of girl. I don't need all those weekly things, and I most certainly don't need an hour-by-hour daily planner. Heaven forbid. I would spend all my free time filling in my planner!
Over the course of the past few years, I have tried to find a monthly planner for my purse that was the right size. But I never ended up using it. It was always stuck in my purse. Then I started carrying a diaper bag, and then a backpack. (I love my boys' monogrammed Pottery Barn Kids Fairfax backpacks.
Click this link
and look at the small backpack. Andrew has a navy one with red lettering, and Benjamin has a red one with white lettering. They're small enough for Andrew to carry to preschool next month, yet large enough for me to carry on my back when I'm grocery shopping and have no room in my cart for a bag or a purse. Also, I love having two so that I can leave a bag with each boy in the church nursery.)
So I resigned myself to the fact that I just can't handle carrying a planner in my bag. I pride myself on having a great memory (even though a lame Facebook quiz tried to tell me that my memory was only at 92% capacity), and I have never had a problem remembering when things were scheduled. But I needed a place to write down our family's appointments and activities. What better place than the refrigerator?
A few years ago, I bought one of those magnetic dry-erase calendars for the front of our fridge. Each month I would erase all the old stuff and add the new stuff. One downside of this method, however, is that it is hard to plan in advance. So each month, next to the calendar, would be a stack of appointment cards and reminders that were scheduled for the next month. Or the next.
Then that stack of appointment cards and reminders got too thick to fit under my magnet. So one day at Target, I saw it. The perfect calendar. And made by my most favorite magazine in the whole world,
Real Simple
. Sigh. It was a match made in OCD heaven.
Here is a
link to the calendar
at Amazon.com, but you can also buy it at Target. Don't be fooled by those random colors on the website (the same ones are shown at target.com). My colors are green, blue, yellow, and red. Each color has a sheet (as big as the calendar) of stickers so that you can organize things by person (here, Matthew, Angela, Andrew, and Benjamin) or categories (i.e., business, personal, church, community, etc.). It's an 18-month calendar, and while it's a pain to have to fill in every month and every day (b/c it's undated), it's nice that I don't have to worry about months that have already passed that I paid for but cannot use.
So now I have a great calendar for my fridge. Some things are not specfic to one person and may involve two, three, or four Amicks. So those things are not color-coded. I try to reuse some stickers (for instance "PT 8:30 a.m.") from month to month so I don't run out. I guarantee you that Benjamin is the busiest member of this family, so I try to conserve my red stickers.
Here is my July calendar:
And a close-up shot of the color-coding that is at the bottom of each month.
But then, it happened. I was at the doctor's office with Benjamin, having a follow-up visit about his pneumonia and all that jazz. We discussed needing to schedule a swallow study for Benjamin. Then she said, "In fact, wait right here, I'm going to go call the hospital right now. Are you going on vacation any time soon?" "Ummm...no..." I replied. And off she went.
I panicked. My July calendar with all its commitments and colors flashed before my face. I knew we didn't have any trips planned, but goodness knows we were already pretty booked. And I didn't know if my 32-year-old mommy brain could remember all that is now involved in being a busy, albeit special needs, family.
Thankfully, the date she gave me only interfered with my annual OB/GYN appointment,
which I had just rescheduled that morning
, but I was
glad to
able to move it a couple of weeks down the road later that day.
So off I went to Target again to buy a planner that I almost bought at the same time (I think in February?) I bought our fridge calendar. (OH, I almost forgot, the only bad thing about the Real Simple calendar is that it is not magnetic, but I use two heavy-duty magnet clips to attach it to our fridge. It's a good thing I had already looked through the calendars and had an idea of what I wanted, because this was the
fateful Target trip when Andrew got sick
, and time was not on my side.)
I bought two separate items from the
Franklin Covey
365 collection. The leather cover was only $12.99, and the monthly/weekly (yes, I know) insert was $9.99. (Incidentally, not having a panic attack at the pediatrician's office = priceless.) Here is the picture of the leather cover (atop the wonderful blanket from the 80s that I "borrowed" from my mom. (It is the blanket we use to sit on when we go outside.)
And here is the inside. If you click the picture to make it larger, you will see that I have color coded this calendar to match (except that I have to pretend that pink = red, but I'm okay with that) the one on the fridge. To do that, I use my
Sanford Accent Dry Pencils (Bible Highlighting Kit)
that I bought a couple of years ago at our local
Lifeway Christian Bookstore
. I love these things. They are retractable, have thick, colored lead (I
love
thick lead) that does not bleed through even thin Bible pages. They're not that great to highlight over pencil (though I do it sometimes), but they do great with pen.
I decided not to stress about the weekly pages. Instead of stressing about filling in every day (weird, I know), I am just using that space to write down things I want to look up (what I wouldn't do for
Google
or
IMDb
in my head) or the never-ending lists that occur throughout the week. The things I write down don't have to be from that particular day or even that week, although I do try to put things down on the week where I think of them. It's like a giant Post-It note!
I try to keep my planner out in my kitchen near my fridge so that when I add something to the fridge calendar, I also add it to my planner. And vice versa. It isn't quite as small as I wish it was, but I can still fit it in my purse when I need to.
Wow. That took a lot longer than it should have. But, if you're OCD, you have to be OCD about telling people about your OCD. Otherwise, you're just an OCD-wannabe.